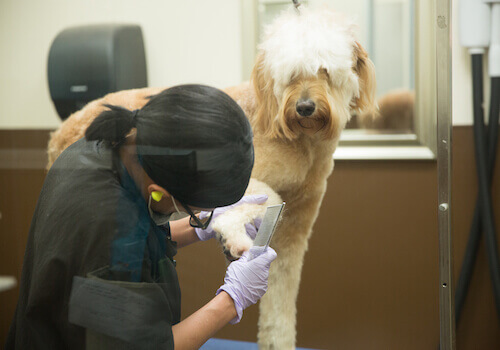 When the weather heats up, you may wonder how your pet handles higher temperatures with a body covered in fur. Dogs and cats actually have natural insulation built into their coats, so in the summertime, their coats help to keep them cool and comfortable, but they may need a little assistance maintaining their healthy coat with regular grooming. Continue reading for some summer grooming tips to help keep your pet cool and fresh all season long.
Regular brushing promotes healthy shedding.
It's best to consult with your vet to understand the best way to care for your pet. To start, a good brushing can do a lot for your pet. Brushing helps to remove loose fur and aid healthy shedding, which is part of your pet's natural cooling process. In addition, a well-brushed coat allows air to better circulate through the fur on warm days. Brushing your cat or dog also helps remove potential irritants like grass seeds and dirt.
Every pet's grooming needs are different.
If your pet has a particularly thick coat, you might think that shaving is the best way to keep them cool. However, full shaving can be highly irritating for your pet. Light trimming can help keep longer-haired breeds a little cooler in the summer and is best done by a professional groomer.
Grooming can assist with managing fleas and ticks.
Another reason to dedicate a little more attention to your pet's grooming this summer is to keep fleas and ticks at bay. When you brush and bathe your pet, you have a better chance of spotting any signs of these irritating insects and take appropriate steps for treatment by calling our vet.
The summer season presents health risks for your pet so we recommend contacting the Veterinary Medical Center of the Woodlands to ensure that you're providing the right seasonal care to keep your pet healthy and happy all year long! Call us today at 281-298-6000.