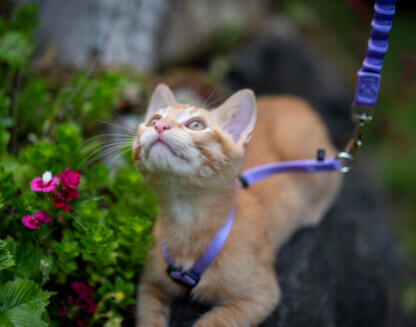 At Veterinary Medical Center of The Woodlands, we believe wellness check-ups are imperative to the health and happiness of your cat. The AVMA president, Dr. Douglas G. Aspros, said, "the human-animal bond is stronger than ever, but we are very concerned that pets may not be getting the preventive health care they need". In 2011, 45% of cat owners didn't take their feline friend for their annual wellness exam.
One of the top reasons why pet owners don't take their cat to the vet is because they claim it wasn't injured or sick. Just because a cat does not appear to have any issues, doesn't mean they are in good health. Cats instinctively hide their illnesses and injuries. There are many benefits when it comes to taking your cat in for their annual wellness exam. Here are a few that are extra crucial:
• The potential for catching a disease in the early stages.
• Maintaining your cat's dental health.
• Ensuring your cat is parasite-free.
• Preventative care is better than reactive care.
Trips to the vet can cause anxiety for your cat, but regular visits will make going to the vet less stressful for everyone involved. Here are some tips to get your cat ready for their wellness visit:
The cat carrier (crate) is key. Teaching your cat to love their carrier and establishing it as a safe zone to help in times of stress. We also recommend making the crate inviting with a cozy blanket and toy inside.
Train your cat to tolerate being handled. If you start this while they're a kitten, it will likely be easier. A good place to start is to hold them and gently touch their paws. Ask friends to do the same so that your cat becomes accustomed to interacting with other people.
Practice going on car rides. The car is another place that can cause stress for a cat. You can do this in increments to get your cat used to being in the car. First, just sit in the cat crate in the car. Once your cat becomes comfortable with that, then drive down the street. When driving short distances becomes tolerable, then work your way up to drive longer distances, and then eventually to Best Friends Veterinary Hospital. Rewarding good behavior with cat treats is always a good idea when trying something new with your feline.
Feline pheromone spray can help relax your cat. Spraying it inside the crate, in the car, and on a towel to put on top of the crate can help with the whole process of visiting the vet.
Talk to us! As veterinarians, we understand feline health and behavior. We want your cat's visit to the veterinarian to be stress-free.
Make sure your cat is in purrrfect health. Receive 20% off your cat's annual exam during the month of August! Book an appointment with Veterinary Medical Center of The Woodlands today!