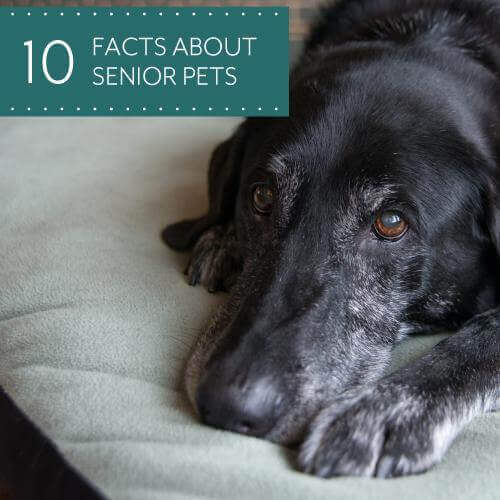 Thanks to research and improvements in veterinary care, pets are living longer than they used to. In honor of these seniors, we'd like to share some interesting facts and information about our elderly four-legged companions.
From signs of aging and orthopedic beds, to the benefits of adopting an older pet, here are 10 facts about senior pets:
Cats and small dogs are typically considered a senior at the age of 7, while larger dogs are usually considered a senior when they're 5 or 6 years old, though it varies by the pet.
A majority of pet parents say that adopting senior pets is better than raising puppies or kittens. When you adopt an older dog or cat, they are usually potty-trained and have developed their personalities, so you know the temperament of the dog or cat you're adopting.
The weight of your senior cat or dog can have a large impact on your pet's health. Overweight pets or a pet that has had sudden weight loss is cause for concern and you should schedule an appointment to see your veterinarian.
There are 'orthopedic' beds available at many pet supply stores to make your senior pet as comfortable as possible.
Senior pets are typically the last to be adopted at shelters, if at all. When you adopt a senior pet, you are literally saving a life. Adopt yours today!
Usually, senior dogs and cats make great napping buddies.
Signs of aging in cats may look like dry fur, flaky skin, and a thinning coat. He or she may move more slowly, not hear quite as well and may feel a little bonier when you pick them up.
Signs of aging in dogs may include weight gain, loss of hearing, less active than they used to be, and cloudy eyes.
An old dog can learn new tricks! Senior pets are teachable, contrary to popular belief.
Another benefit of adopting an older pet is that they're usually calm. They've likely graduated from the young, energetic stage of their life, which usually means less destruction at home, compared to youngsters.

—
SOURCES: